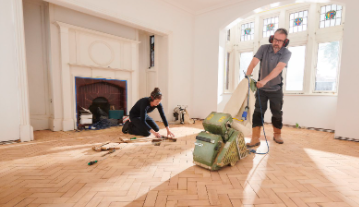 Are you looking for a reliable, regular hard floor sanding service that will keep your floors in top condition? Do you need the old hard floor in your office restored and polished? Better get help from our superb professionals. We have been performing detailed parquet sanding and polishing services to private and administrative buildings in the area. Our team members have become very popular with the outstanding results we deliver. We will come ready and equipped to treat the flooring at your property with the most effective and sophisticated tools and products. And what's even better, once you request the services of our Chiswick floor sanding experts you will never worry about your hard floors appearance
The Thrilling Benefits Of Our Floor Sanding Services In Chiswick
When it comes to our floor sanding services available for properties within the Chiswick area, you can be absolutely sure they will bring you miraculous results. This is the fastest and easiest way for you to renovate the look of your flooring, and improve your domestic environment a little bit. Our highly skilled and experienced tradesmen will make sure everything goes as it should be. They are professional, reliable, and quality of work is their top priority. Besides, you will be happy to learn our expert service for floor sanding comes with additional benefits for you. Here are a few examples: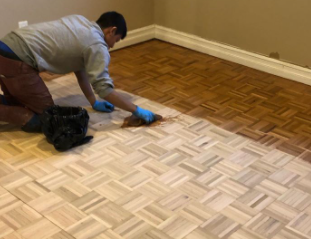 Customer care centre open 24/7;
Request a service for a day and time which suit you best;
A range of flexible booking options;
Over fifteen years of professional experience;
Next-generation equipment;
Bona certified technicians;
Honest work and remarkable results;
NO deposits, NO hidden payments;
Additional services such as water damage restoration or handyman services
We provide you with full-service floor sanding. This means it includes a a great number of flooring maintenance procedures. So when our specialists visit your property and examine the condition of your floor, they will determine whether it needs restoration and repairs before the actual sanding takes place. Our specialists can fill in any cracks and take care of unwanted staining. Then they continue with the actual floor sanding, varnishing, oiling and waxing. The end result will make you happy, your floor will look absolutely marvellous! For easy reference, here are the procedures our floor sanding service features in the form of a list:
Restoration & Repairs
Gap Filling & Staining
Wood Floor Sanding
Varnishing, Oiling and Waxing
Schedule Discounted Floor Sanding in Chiswick
Place an order by Contact us now! Our customer care representatives are expecting your call 24/7, ready to offer you help with the booking process. Call us around the clock, or talk to our advisers online, via our instant chat feature. Get free quotes and more details on our floor sanding in Chiswick and rock-bottom prices. To request a call back at more suitable time, all you have to do is use our online form.